URCO Grant Recipient - Bailey McFarland
Bailey McFarland
Modeling and Redesign of the Spider Silk Continuous Electrospinner
Electrospinning uses an electric potential difference to pull charged nanoscale threads out of solution. With the recent explosion of interest in nanoscale materials, electrospinning processes are of great interest to researchers around the world with applications ranging from high-quality filtration to tissue engineering.

The goals of this group's system are to produce a twisted yarn from spider silk protein nanofibers that will maintain or improve upon spider silk's already impressive mechanical properties, while also possessing the novel characteristics that come with nanoscale materials. The system needs to allow for continuous spinning, be able to produce large quantities of yarn, and have reasonable consistency. Preliminary results are encouraging, but consistency could be improved. This grant will facilitate the testing, design, and computer modeling required for the creation of a more consistent and functional system that will produce better, more repeatable results.

Check out GRCO and URCO grant opportunities for graduate and undergraduate students!
USU Professor Elected to American Institute for Medical and Biological Engineering College of Fellows
USU Professor Elected to American Institute for Medical and Biological Engineering College of Fellows
Dr. Ron Sims
In December, Dr. Sims was elected to the College of Fellows of the American Institute for Medical and Biological Engineering, or AIMBE. Dr. Sims was officially inducted into the AIMBE on April 8, 2018, in Washington D.C.
In December, Utah State University Professor of Biological Engineering Dr. Ron Sims was elected to the College of Fellows of the American Institute for Medical and Biological Engineering, or AIMBE.
AIMBE is a non-profit, honorific society of the most accomplished individuals in the fields of medical and biological engineering. Its mission is to advocate for biomedical and biological engineering innovation through public policy initiatives. Fellows are peer-nominated and represent the top two percent of the medical and biological engineering community. Sims was officially inducted into the group on April 8, 2018, in Washington, D.C.
Sims has led a 45-year career in industry, government and higher education. He has demonstrated meaningful contributions to the field of biological and biomedical engineering, and his work has improved public health and environmental sustainability. He served as head of what is now USU's Biological Engineering Department from 2003–2014 and was director of the Utah Water Research Laboratory from 1996–2003. Before joining USU in 1982, Sims held several leadership roles at companies and institutions across the country including Research Triangle Institute, Bayer AG and the International Program in Environmental Aspects of Industrial Development at the University of North Carolina, Chapel Hill.
From 1988–1989, Sims collaborated with U.S. Environmental Protection Agency staff to develop curricula and to train engineers, scientists and administrators around the globe in management approaches for addressing contaminated drinking water, air and soil at hazardous wastes sites.
He also worked with the U.S. State Department and the United Nations Industrial Development Organization to develop a curriculum and provide training to national and international experts on technologies and processes for accomplishing industrial development within the context of protecting public health and the environment.
On being elected to the AIMBE College of Fellows, Sims said the accolade honors his support network at Utah State University. "This level of achievement has only been possible thanks to the support I receive at USU," he said. "It reflects the research infrastructure, my university colleagues and the community of professionals who've supported me along the way."
Dr. Ron Sims was inducted into the College of Fellow of AIMBE on April 9th, 2018. Click here to read AIMBE's office press release.
Biological Engineering Undergrad Wins International Video Contest - Nathan Guymon
Biological Engineering Undergrad Wins International Video Contest - Nathan Guymon
Nathan Guymon
A junior majoring in Biological Engineering
ISWA Video Award
Utah State University undergraduate student Nathan Guymon won second-place in an international video contest aimed at educating the public about solid waste.
Guymon, a junior majoring in biological engineering, produced a one-minute animation illustrating the vast amounts of waste people generate every year.
"I wanted to make a video that was short but impactful to show people how much waste we create," said Guymon. "The idea behind the video was to inspire a sense of urgency. I wanted to motivate people to act and to start realizing the scale of this problem."
Guymon submitted his video to the International Solid Waste Association (ISWA) headquartered in Vienna, Austria. His animation-based video was one of 34 entries from 15 countries. For placing second, Guymon received a €750 ($900) prize and was invited to attend ISWA's annual conference this September in Baltimore, Md.
As part of his undergraduate program, Guymon works with a campus research group that specializes in converting waste into useful bioproducts. Researchers at the Sustainable Waste-to-Bioproducts Engineering Center, or SWEBEC, are engineering new technologies that convert seemingly useless material – including municipal wastewater, dairy and swine farming waste and used hydraulic fracturing fluid – into a range of valuable products including bio-based fuels, plastics, therapeutics and feedstocks.
Guymon says he plans to pursue graduate studies and a career in a medical or environmental sciences field.
GRCO Grant Recipient - Anna Doloman
Anna Doloman
Doctoral student under Dr. Charles Miller
The project proposes a safe disposal of microalgal biomass that is harvested from eutrophicated lakes. Microalgal biomass is anaerobically digested with novel isolated bacteria from local Logan City wastewater lagoons. A valuable energy source, biogas, is produced during the anaerobic treatment of microalgal biomass. For a high rate of treatment and biogas production, novel microorganisms will be incorporated into a granular consortium of highly active biogas producing bacteria. The GRCO project addresses the characterization of the novel isolates and quantification of incorporation rates.
"The project has been brewing for quite some time during my research time at BE, thus, application for GRCO support was a push to finally finish this project and make something useful out of it."
Check out GRCO and URCO grant opportunities for graduate and undergraduate students!
Biological Engineering Students Present at NASA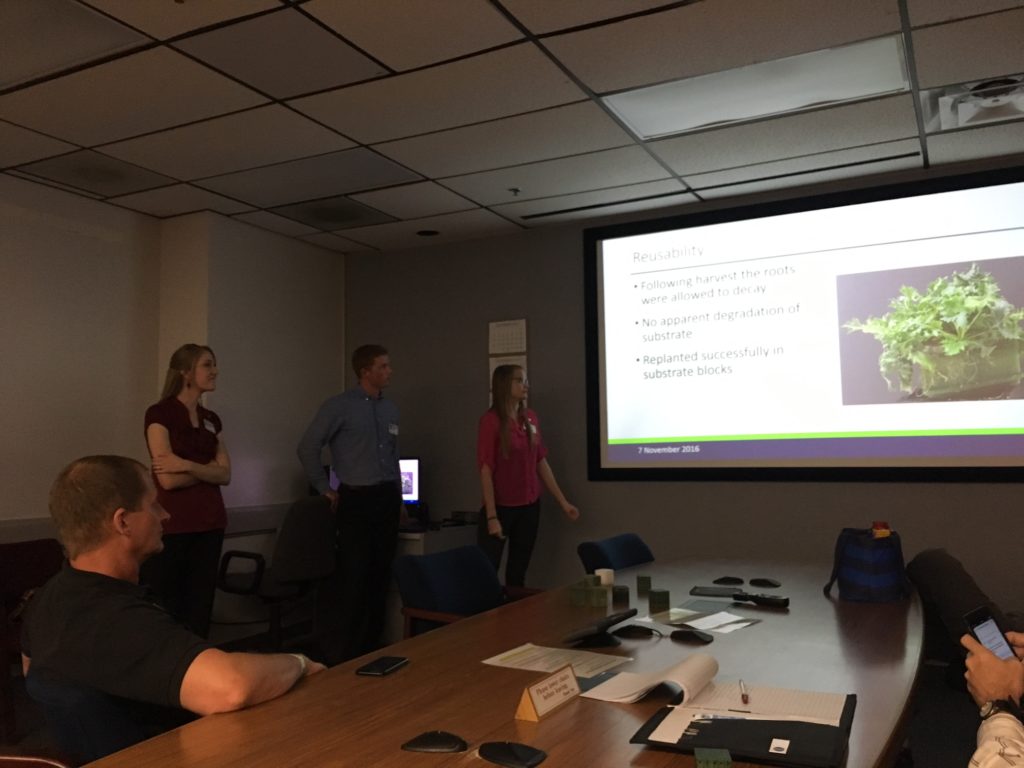 *Biological Engineering department students Elizabeth Sherman, Emilee Madsen, Daniel Froerer, Zachary Jensen and Professor Taylor presenting Eden with NASA scientists and engineers. Photo Credits: NASA
Early in November students from Utah State University's Biological Engineering program presented their research project, Eden, to the Scientists and Engineers employed by NASA.
Elizabeth Sherman, Emilee Madsen, Daniel Froerer, and Zachary Jensen under the tutelage of Dr. Timothy Taylor took on an academic innovation challenge posed by the Kennedy Space Center geared at making deep space exploration a reality. Called the eXploration Systems and Habitation (X-Hab) project, the goal was for students to develop new and innovative technologies that address the issues associated with long-term space travel.
The team geared their efforts towards creating a self-sustaining habitat that negates some of the issues of maintaining crops in microgravity environments. They developed Eden, an autonomously operating plant chamber that delivers water and other nutrients to the roots of plants in a revolutionary way.

The students' innovative project received high praise from Dr. Gioa, a food production scientist, for its novel approach for sustaining plant growth in microgravity environments. This new technology has demonstrated that it could be highly pragmatic for limited crew time missions.
For information check out this blog from NASA or this article from Nature World News
SWBEC Undergraduate Student Award of Excellence presented to Mr. Alan Hodges
Mr. Alan Hodges received the 2016 Undergraduate Student Award of Excellence on July 28 from the Sustainable Waste-to-Bioproducts Engineering Center (SWBEC). The award was presented by Co-Director Dr. Ronald Sims at a SWBEC Conference that hosted the international engineering firm WesTech-Inc. The award recognizes outstanding performance and contributions to the operations, research, and achievements of the SWBEC, and was signed by Dr. Sims and by Co-Director Mr. Issa Hamud representing the City of Logan Environmental Department. Dr. Sims stated that "Mr. Alan Hodges has exemplified a leadership role in planning and executing activities related to multiple research and development projects since 2013 sponsored through the SWBEC."
The mission of SWBEC is to convert society's wastes into valuable products to treat water for reuse, protect the public health and the environment, and promote resource recovery, sustainable production of bioproducts of value, and new industries and new jobs in support of economic development. SWBEC was approved by the Utah State University Board of trustees, November 2010, and the State of Utah Commissioner of Higher Education.
Student Spotlight - Harsh Singh
July 2016 - Q&A with Biological Engineering student Harsh Singh
Q: Where are you from?
A: I was born in India, but grew up in Canada, and I went to high school in Cache Valley.
Q: What led you to choose Utah State?
A: I chose USU mainly for the opportunity to get involved in research quickly.
Q: Why did you pick BE?
A: I picked biological engineering because my main interests through high school were medicine and physics. Biological engineering is a great mesh of those two fields. As a pre-med student, majoring in a field that influences medicine so directly has been very beneficial.
Q: What are your career plans for the future?
A: I want to go to medical school and (tentatively) want to specialize in emergency medicine or trauma surgery.
Q: What are your hobbies?
A: My hobbies include watching and playing sports (especially hockey), hiking, and spending time with my friends.
Q: Name one of your favorite things to do in Cache Valley.
A: I love spending time outdoors in Cache Valley, whether it's hiking, biking, boating, or having campfires.
Q: What's your favorite TV show?
A: My favorite TV show right now is probably The Flash, though I like Arrow as well.
Q: Name an influential professor and why he or she made a difference.
A: I've had quite a few influential professors at USU, but one of the most influential would be Dr. Andy Anderson. I started consulting with Dr. Anderson when I was in high school, and he was the one who first suggested I get my certified nurses assistant (CNA) license.
After successful completion of my CNA license, I became a licensed phlebotomist, and currently work at Logan Regional Hospital. In addition to teaching my anatomy class, Dr. Anderson's human dissection class gave me an opportunity to work with cadavers before going to medical school, an experience most pre-med students don't have. I also had the opportunity to be a teaching assistant for Dr. Anderson's anatomy and human dissection classes, which has been a great way for me to expand my own knowledge of the content while teaching others. He has been an overwhelmingly positive influence in my life, and I am incredibly grateful for the help and guidance he has given me during my time at USU.
USU Biological Engineer Patents Method to Make Natural Blue Dye
Feb. 22, 2016 – A Utah State University researcher has taken a big step toward making a safer, more natural dye that can be used in the food, textile, cosmetic and other industries.
Dr. Jixun Zhan, an associate professor of biological engineering at USU, has secured a patent for an innovative method to produce the deep blue dye known as indigoidine. The tint was originally synthesized from a bacterial strain found in Rhode Island and offered a promising alternative to the synthetic dyes used to color jeans, leather, food and paper.
The bacterium itself, however, does not produce significant quantities of indigoidine, so Zhan proposed mimicking the organism's biosynthetic machinery inside a heterologous host cell: E. coli. These mostly harmless bacteria can churn out significantly higher yields of the blue pigment and provide an efficient way to produce the dye without using synthetic compounds that could pose a threat to human health and the environment.
"In the original producing strain, there is only one copy of the biosynthetic gene that synthesizes the pigment," said Zhan. "But in E. coli. we can make multiple copies of the gene and induce its expression under a stronger promoter."
Zhan's patent also includes the development of a new method to further process and purify the pigment before it's ready for use – an important step when using the colorant in food and drinks. Business experts say the patent presents an exciting opportunity across several industries.
"The demand for natural dyes is growing rapidly," said Christian Iverson, business development director for USU. "I've had a number of conversations with food and consumer product companies that are looking for natural dyes to replace some or all the synthetic chemical-based dyes currently in use – in particular blue."
The invention is just the latest advancement Zhan and his team have made in the growing field of combinatorial biosynthesis. In other studies, Zhan is using bacteria as a heterologous host to produce natural, health-promoting compounds that are normally found in plants. In fact, it was his work on bioactive natural products that led Zhan to the indigoidine bacterium.
"We were interested in the biosynthesis of a compound called herboxidiene by this particular bacterium, " he said. "Herboxidiene is an anti-cholesterol compound that we have been working on with support from the American Heart Association. We sequenced the genome of this bacterium, and while we identified all the genes that are involved in herboxidiene biosynthesis, we also found a pathway that can synthesize indigoidine."
Zhan says he's confident manufacturers will see the added value of his natural dye process. He says today's consumers are increasingly aware of the synthetic ingredients found in everyday products and are looking for natural substitutes wherever possible.
Also being reported by:
###
Official Press Release
Media Contacts:
Jixun Zhan | Utah State University | College of Engineering
435-797-8774 office | jixun.zhan@usu.edu
Matt Jensen | Utah State University | College of Engineering
435-797-8170 office | 801-362-0830 cell | matthew.jensen@usu.edu
engineering.usu.edu | @EngineeringUSU
Kate Peterson Astle | Utah State University | Innovation and Commercialization Services
435-797-9608 office | 435-770-5599 | kate.astle@usu.edu
iGEM vs the Cheese Killer
Cheese manufacturing is under attack by a type of virus called bacteriophages. The viruses infect bacteria used in the dairy fermentation process that yields our beloved cheese and yoghurt. Utah State's 2015 International Genetically Engineered Machines, or iGEM, team has been researching ways to fight back against the virus. The iGEM event is a competition that promotes student involvement in real world synthetic biology research.
Led by Dr. Charles Miller, the team is using synthetic biology to attempt to create a strain of phage-resistant lactic acid bacteria. The new strain will be capable of detecting the presence of the virus by activating a genetic switch. If the virus is found, the bacteria will turn red or green alerting technicians of infection. The iGEM team is also developing a different method, which they've dubbed the 'suicide system,' that works by causing the bacteria to die before the virus fully forms. Miller says the system will hopefully stop further spreading, preventing additional contamination throughout the culture.
Student team members say it's exciting to be part of an innovative research project with a practical application.
"It's a chance to hone my skills in working with synthetic biology, to practice leadership roles and to develop my ability to present information in multiple formats," said Chad Nielsen.
This year's team is preparing to compete against more than 280 teams from across the world at the 11th annual iGEM competition in Boston, Mass. This will be the eighth iGEM competition for the USU team, something Miller says is a unique experience for biological engineering students.
"I think each student is taking away something different from their iGEM experience, said Miller, who has been the iGEM faculty advisor since its start. "Several of the students have never worked in a biological engineering laboratory, so they're learning skills that are not duplicated elsewhere."
Competing in iGEM also gives students unique training they don't get inside the classroom.
"It's a great opportunity for individuals to gain valuable experience working together as a team," said Tom Overbeck.
iGEM 2015 took place Sept 24-28.
Uintah Basin's Wastewater Evaporation Ponds Could Yield Bioenergy
LOGAN, Utah, Sept. 15, 2015 – The wastewater evaporation ponds that support the oil and natural gas extraction industries in the Uintah Basin may soon help spur the development of alternative bio-based fuels.
Researchers at Utah State University are leading a new collaborative study with colleagues at the University of Utah and BYU in developing ways to cultivate microalgae using spent hydraulic fracking fluid – known as produced water. In turn, the algae-based biomass can be used as a feedstock to produce biofuels, methane-based biogas, plastics and other products.
The study is backed by the Utah Office of Energy Development and will receive $125,000 in funding. The microorganism's ability to grow in the turbid produced water surprised researchers who've worked on dozens of algae studies.
"Theoretically it shouldn't have grown," said lead researcher and Utah State professor of biological engineering Ron Sims. "But it actually grew, and it grew very well."
Sims says produced water is highly saline but also loaded with organic material and nutrients that microalgae depend on. He says produced water from the Uintah Basin holds significant potential for the cultivation of biomass. The new research effort comes at a time when produced water ponds are being scrutinized for their effects on air quality in the Uintah Basin. Sims says 98 percent of produced water is injected back into the ground. The rest is stored in evaporation ponds. Repurposing the fluid could help mitigate ground water and air quality concerns.
"We're taking a waste – in this case wastewater from fossil fuel extraction – and we're converting it into biofuel," said Sims. "If this works, these companies will be able to take the wastewater that they'd likely store underground or leave in large ponds where it pollutes the atmosphere, and they could turn it into biofuel."
The algae is grown on rotating drums partially submerged in the produced water that expose the growing microorganisms to both water and sunlight. At night, Sims says the algae may also break down organic petrochemical compounds in the produced water – an added benefit that may further improve water quality.
Sims says once the project is completed and analyzed for cost effectiveness, he anticipates promising economic potential.
"The quantifiable market for the proposed innovation process for produced water to biomass to biofuels will be directly related to the market value for petroleum-based crude and natural gas," he said. "This research is driven by society's need for improved air quality and the responsible use of water, especially in Utah's desert environment." For more information click here.
###
Media Contact Matt Jensen – College of Engineering
Utah State University| 435-797-8170
matthew.jensen@usu.edu |@Engineering USU
Story Link: http://www.engineering.usu.edu/htm/news/articleID=29965
Biological Engineering Faculty Awarded for Cutting-Edge Eye Health Research
June 4, 2015 – More than six million Americans are affected by age-related macular degeneration and other retinal diseases, and despite the prevalence of these disorders, few methods of prevention and treatment exist today.
But at Utah State University, researchers are working to change that, delving into a new study that could unlock the secrets of diseases that manipulate normal cell function in the eyes.
Dr. Elizabeth Vargis, assistant professor of biological engineering, is among the 35 recipients of the 2015 Oak Ridge Associated Universities, or ORAU, Ralph E. Powe Junior Faculty Enhancement Award. ORAU announced the list of awardees May 20. The grants provide funding to enrich the research and professional growth of young faculty in their first two years of a tenure track position. Vargis will receive $5,000 from ORAU and a matching grant from USU. The funds will be used to purchase highly specialized cell growth tools that give Vargis and her research team precise control over in vitro cell cultures.
"The overall goal of this research is to develop in vitro models of eye disease," she said. "And the way we're doing this for retinal disease is by controlling where the cells grow."
Unlike normal cell behavior, cells impacted by age-related macular degeneration start a domino sequence that causes neighboring cells to die. The size of the diseased areas, Vargis explains, can affect how powerful this chain reaction is. By controlling the exact size and location of her disease models, Vargis can evaluate cell behavior and possibly identify a method to reverse the disease or prevent its escalation.
"Results from this work will provide insight into the differences among normal cells, cells near small areas of degradation – which represents early stages of disease – and cells near larger areas of degradation – meaning late stages of disease," she said.
Controlling the growth pattern of diseased cells, however, is complicated. It requires very small and highly specialized tools available only at Oakridge National Laboratory's Center for Nanophase Materials Sciences. The grant provides funding for Vargis and a student to travel to ORNL to use equipment and collaborate with colleagues. Additional funding will cover the cost of supplies and student research wages.
Vargis said she's honored at being chosen as a Ralph E. Powe recipient and excited about moving forward in this critical health sciences research.
"As an engineer, we have the tools and expertise to really change how biological and biomedical problems are solved," she said. "I'm thrilled that we will be using our methods to better understand retinal disease."
More information can be found at VargisLab.com
Two Engineering Professors Honored at Robins Awards Ceremony
LOGAN, Utah, April 13, 2015 – Two College of Engineering faculty members were recognized at the 2015 Utah State University Robins Awards Ceremony on April 12.
The Eldon J. Gardner Teacher of the Year Award went to David Britt, Ph.D., and the Faculty Researcher of the Year Award was presented to David Tarboton, Ph.D.
Britt is an associate professor of biological engineering. His emphasis is in surface chemistry, interfacial water structure and associated surface potential of membranes and biomaterials related to protein absorption and biofilm formation.
Britt started teaching at USU in 2002 and has since become an exceptional resource in education for many students and faculty.
"I am extremely happy that the extra effort I've put into course development and teaching has had such a positive impact on my students and has been recognized at this level," said Britt. "As my Ph.D. advisor would say after each paper I published, 'another notch on your academic bedpost.'"
The Eldon J. Gardner award goes to the faculty member who demonstrates personal interest in students and the ability to make classes both challenging and interesting. The award recognizes and emphasizes excellence in teaching.
Tarboton is a professor of civil and environmental engineering. His emphasis is in the area of surface water hydrology and information technology. Tarboton has been teaching at Utah State University since 1990 and has been able to find great success in his research.
The Researcher of the Year Award goes to the faculty researcher who shows superior research capability and academic excellence.
"I am truly honored by this award and recognition," he said. "Research is a team activity and this award should really belong to the team of graduate students and close colleagues in the Utah Water Research Lab, CEE department, Computer Science and WATS at USU and others around the country and world whose collaboration has generated the achievements that are honored. I want to thank all those who have collaborated with me for their hard work and dedication and want them to know that his is their award as much as it is mine."
Tarboton develops computer models and software that are freely shared, to enhance hydrologic analysis. He and his team have recently been working on the Hydroshare collaborative environment that they hope will become a platform for data and model sharing across the hydrologic research community.
The Robins Awards are the most coveted of all USU honors, and the awards night is the year's most prestigious event. The awards honor students and faculty for hard work and dedication to their individual goals, as well as the goals of USU. The awards memorialize William E. Robins, a former USU student body president who was successful in turning his vision into Utah State's vision.